CFPA Corner: Breakout Force
By Alan Wheatley, CFPA Communications Chair
Fluid Power
CFPA
2015 was a breakthrough year for the Canadian Fluid Power Association (CFPA). What's in store for 2016?
For the first time in its history, industry events were held in western, central and eastern Canada. Becoming a national association requires regional representation and acceptance from the membership.
The work of the board has paid dividends this year in the form of many new members. Early in 2015, the CFPA Board of Directors needed to outline its events calendar for the coming year. As a national association, the economic difficulties of the industry in Canada needed to be taken into consideration. The drop in oil prices in Alberta, combined with the volatile nature of manufacturing in the other regions, meant that members needed to see value in their membership. We needed to be sure any event promoted would be well attended. Our decision was to hold a regional event in western Canada, a golf tournament in Ontario and our AGM in Quebec.
Our western Canada event last April in Calgary was a reception with a keynote address from Paul Tsounis, an expert in energy economics. He provided insight on the fundamental shifts that have occurred in North American energy markets and how these shifts are impacting Alberta. The presentation was informative and, in retrospect, provided some forewarning of things to come for the balance of 2015.
Additional events in western Canada included a revised version of the Strathcona Fluid Power Challenge and the golf tournament in June. Continued efforts from our western directors to keep our fluid power members involved in the CFPA under difficult economic circumstances are appreciated.
The Fluid Power Challenge returned to Ontario in May last year, with 19 schools participating in this technical challenge to design, build and test a fluid power device. The enthusiasm showed by the students, teachers and faculty during the four hour competition was infectious. Our future fluid power engineers put on quite a show.
Our annual golf tournament was held at Crosswinds in Burlington in June and was again a fabulous event. The weather did not fully cooperate but that didn't dampen spirits. The highly attended event made for a great networking day and an opportunity to get outside and partake in friendly competition amongst peers. Hockey hall of famer Marcel Dionne served as the guest of honour and brought with him old time hockey stories and good laughs.
October brought our first Annual General Meeting to Chateau Vaudreuil on the outskirts of Montreal. Our decision to have our first AGM outside of Ontario turned out to be a positive decision. Our exceptional line up of speakers over two days, along with collaborative meetings with our members, really provided exceptional value. Some of the highlights were:
Famed Canadiens hockey great Chris "Knuckles" Nilan shared his hardships about making it to the NHL, his fall from grace and his recent redemption during his 13 year professional career. Lesson learned: Whatever happens, never back down, never stay down!
Gary Gzik of BizExcel showed attendees how to take actions to transform their organizations into places where employees willingly sacrifice not only their time, but their talents, creativity and passion, and even their blood, sweat and tears. Gary's presentation was enthusiastic, interesting and interactive
Jason Myers, President and CEO of CME, discussed short term problems and long term strategies for the Canadian manufacturing sector
Marti Wendel, IFPS President and 25-year career fluid power engineer, highlighted issues that currently prevent more women from obtaining successful careers in the fluid power industry.
Louis Dicaire, President of REAI, presented an interesting overview of this industrial automation association in Quebec. Can automation companies who are both competitors and partners work together to promote their technology? In Quebec they can!
Donna Pollander, IFPS Executive Director, explained the process, requirements and advantages to achieve certification in fluid power specialty.
Overall, the 2-day event was well organized and well received; the positive comments from the attendees tells us we are on the right track.
What's in store for 2016? The CFPA Board of Directors continues to look to our members for direction and focus in the coming year. Education and Market Insight are the two topics our members say are of utmost importance. Education is always a challenge and promoting fluid power as a viable and exciting career path has always been and will continue to be the foundation of the CFPA.
Access to market statistics in this unpredictable economy will enable our members to understand possible trends nationally, regionally and locally. Our other committees have equally important tasks on hand this year, such as a social media strategy, increasing awareness of changing standards for fluid power in Canada and globally and increased participation in regional events. 2016 looks to be an exciting and dynamic year for the CFPA, its members and the fluid power industry. Our regional events calendar will be finalized in the next month with events in all regions being planned and our exciting announcement that our AGM will be at Chateau Montebello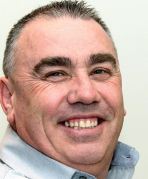 this year from May 4-6. Keep up to date for all things fluid power and be part of a vibrant association.
Alan Wheatley is Communications Chair for the Canadian Fluid Power Association, a non-profit association of companies committed to the development of fluid power technology in Canada.