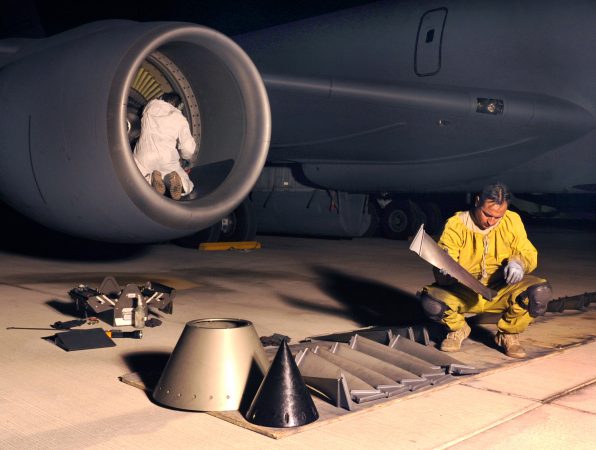 In the aerospace industry, quality management can mean the difference between economic success and costly mistakes. Aircraft manufacturers must ensure that their products perform to a high degree or risk catastrophic consequences. Recognizing this, major players in the aerospace industry formulated and adopted the AS9100 quality management system in 1999, which replaced a patchwork of company-specific standards with an internationally recognized benchmark that unified quality control across the global supply chain. Today, AS9100 is simply a requirement of doing business for any aerospace supplier.
Aerospace quality control tends to be strict and comprehensive, requiring a dense sampling of comparison points to assure final production parts match the original CAD design data. In addition, the process typically requires a large sampling size if not entire batch inspection. The most applicable form of verification comes from non-destructive testing (NDT), especially when dealing with low-volume, high-value parts, for which destructive methods and sacrificing material/parts are unacceptable.
With the increased demand for new aircraft entering into service, the market for non-destructive testing is expected to expand significantly. According to a report by market research firm MarketsandMarkets, the global NDT market was valued at US$12.98 billion in 2015 and is projected to reach approximately US$18.88 billion by 2020.
This market expansion has also put increasing pressure on aerospace engineers to become proficient in NDT quality methods. According to Employment and Social Development Canada, over the 2013-2022 period, NTD expertise is expected to be in high demand, with approximately 32,500 job openings but approximately 27,000 job seekers.
It has also sparked a significant effort worldwide to harmonize the international standard for NTD personnel certification. In March 2015, Canada launched an updated version of its standard for implementation, CAN/CGSB-48.9712-2014. This updated standard is an identical adoption of the International Standard ISO-9712:2012, which is now the basis for all third-party NDT certification programs globally.
The certification covers proficiency in one or more of the following NDT methods: (1) acoustic emission testing; (2) eddy current testing; (3) infrared thermographic testing; (4) leak testing (5) magnetic testing; (6) penetrant testing; (7) radiographic testing; (8) strain gauge testing; (9) ultrasonic testing; (10) visual inspection.
Among those, visual inspection is expected to be the major contributor to overall NDT market growth, according to the MarketandMarket's report. "Visual inspection is considered as the primary and easiest NDT technique due to the fact that any defect can first be noticed by monitoring the components while operations." Aerospace & defense, automotive, oil & gas, petrochemical, power generation, industrial manufacturing, infrastructure, marine, offshore and various other industries rely heavily on visual inspection. In Canada, however, liquid penetrant, magnetic particle, radiographic, ultrasonic and eddy current testing are the most common NDT methods.
In Canada, global aerospace suppliers like Magellan Aerospace are at the cutting edge of NDT. In 2011, the Magellan Aerospace facility in Winnipeg (MAW) opened its state of the art Advanced Composites Manufacturing Centre. MAW's entire quality department consists of about 80 staff of which 12 (approximately 15 per cent) are involved with NDT. Today, production of parts for the F-35 program is underway, and among the centre's leading-edge technologies is a PaR Laser UT Non-Destructive Inspection facility. According to Magellan, its Laser UT system is one of four in the world, and the only one outside of the U.S.
"NDT factors into aerospace manufacturing as a defined engineering requirement by our customers," explains John Derkach, technical team leader—process engineering, at MAW. "It prescribes the NDT method(s) and quality acceptance criteria. NDT results are assessed for compliance to drawing requirements to ensure each delivered piece of hardware meets the fit, form, and function for its design service life."
With the rise of composite use in aerospace design and manufacturing, there has been significant discussion on its application and performance ability above and beyond metal substrates. The inspection requirements are not the same with composites as they are with metals. With the adoption of new and comprehensive NDT methods, technicians are able to say with certainty that the bonds in the composite material are strong and maintain integrity on par with the more familiar aluminum riveted aircraft
"There are new and emerging NDT methods being tested and developed to keep pace with the various NDT challenges new aerospace materials provide," notes Derkach. "The biggest challenge is to be more efficient when conducting the required NDT testing to allow MAW to be cost competitive globally and maintain the required high probability of flaw detection to ensure compliant hardware is delivered to the customer on time."
The Laser UT provides non-destructive ultrasonic inspection for composite materials. However, when it comes to aerospace NDT, the company employs a wide gamut of different methods. For example, activities at the MAW facility currently include radiography (film & fluoroscopy), ultrasonic (conventional & laser), eddy current (phase impedance & direct reading), fluorescent penetrant inspection, and magnetic particle inspection.
"Our NDT operating procedures are compliant with our customers' and applicable ASTM specifications," notes Derkach. "Our NDT inspectors are NAS 410 and CGSB certified. We maintain NADCAP NDT accreditations to be an eligible supplier to the U.S. Defense Department and prime OEM aircraft and aero engine manufacturers."
Today, Canada is a market leader when it comes to advancing technology through the efforts of Canadian companies that specialize in automating non-destructive testing techniques. Overall, Canada's NDT sector is thriving. However, as the boomer generation retires, more and more NDT jobs will become available. This is an area where Canada needs to start focusing its energy. Industries like aerospace are rapidly developing new process and technologies, and the NDT sector is working to maintain advancing quality standards for this new era of manufacturing.