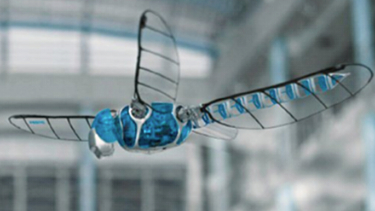 Building on the work of the SmartBird, Festo announced that it will literally launch its latest creation, the BionicOpter, at Hannover Messe in April. With a wingspan of 63 cm and weighing in at 175 grams, the robotic dragonfly mimics all forms of flight as its natural counterpart, including hover, glide and manoeuvring in all directions.
This is made possible, the company says, by the BionicOpter's ability to move each of its four wings independently, as well as control each wing's amplitude, frequency and pitch. Including its actuated head and body, the robot exhibits 13 degrees of freedom, which allows it to rapidly accelerate, decelerate, turn and fly backwards.
"This unique way of flying is made possible by lightweight construction and the integration of functions: components such as sensors, actuators and mechanical components, together with open- and closed-loop control systems, which are installed in a very tight space and matched accurately to one another," explained Dr. Heinrich Frontzek, Festo's head of corporate communications and future concepts.
In total, the BionicOpter's wings are actuated by nine servomotors. The first, positioned in the base of its main body housing, regulates the frequency of the wing beats, which can be varied between 900 to 1200 times per minute (15 to 20 hz). Additionally, four motors (one at each joint) independently control each wing's amplitude—or how far it travels per beat—to anywhere between 80 to 130 degrees of deflection.
Each wing can also be rotated up to 90 degrees to control angle of attack and allow the BionicOpter to fly forward and backward. To save on weight, the robotic insect's head and body actuation relies on four shape memory alloy structures that move the head side to side and the tail to move vertically.
To coordinate movement and provide flight stability, the BionicOpter is equipped with a series of inertial, positional and acceleration sensors that record wing position and orientation as well as the tilt, speed and direction of the dragonfly's flight. That recorded flight data is then evaluated in real time by its on-board ARM microcontroller, which calculates all the parameters that can be adjusted mechanically.
According to the company, the robotic dragonfly's wings are composed of carbon fibre rods reinforcing a polyester membrane while its main body is a combination of aluminium as well as sintered polyamide and ABS plastic. Two 7.6-volt lithium polymer batteries supply power and an integrated wireless receiver allows the dragonfly to be remotely piloted by smartphone.
Like all of Festo's robotic creations, the BionicOpter is the product of the company's Bionic Learning Network, a research partnership between the company, universities and development companies, that focuses on creating industrial technology based on design principles drawn from nature.
www.festo.com/bionic