Matsuura debuts hybrid metal 3D printing and milling machine to North American market
LUMEX Avance-25 combines laser sintering and high-speed milling for mold and die, aerospace and medical industries.
January 8, 2014 Mike McLeod
---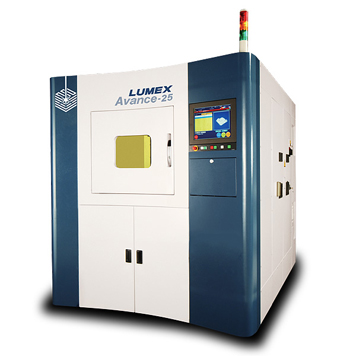 Matsuura Machinery Corporation announced that its LUMEX Avance-25 Metal Laser Sintering Hybrid Milling Machine has entered the North American market (U.S. and Canada) starting January 1. Sold through a distribution agreement with Mitsubishi, the hybrid machine is the result of five years of R&D and is the only machine to offer a one-machine process for complex molds and parts.
Like other laser sintering machines, the LUMEX Avance-25 binds thin layers of metal powder using a laser. However, during the additive manufacturing process, the machine also mills partially finished parts to provide higher accuracy as well as complex geometry that isn't possible using traditional methods (e.g. mono-block, intricate internal structures, 3D mesh).
The machine accommodates a maximum workpiece size of 250 x 250 x 180mm, a feed rate of 60/60/30 m/min and a maximum spindle speed of 45,000 min-1. With a price tag of just under US$846,000, the company says it hopes to sell 10 in its first year on the North American market.
www.matsuura.co.jp