Engineering-grade 3D printing solution
Stratasys F123 Series gives the option of up to four different materials, along with our easy-to-remove soluble support material.
February 27, 2017 Staff
---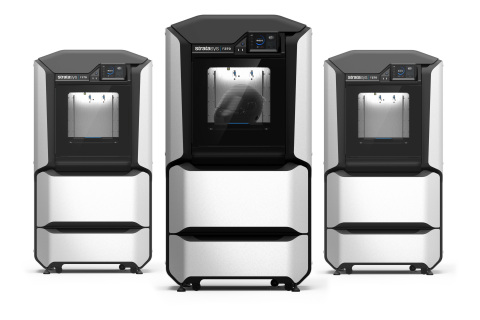 Stratasys' F123 Series is available in three models with build sizes ranging from 10 to 14 inch (25.4 cm to 35.56 cm). The Stratasys F123 Series accepts up to four material types in 10 colors to support a wide range of prototyping and tooling applications. For example, the F123's new Fast Draft Mode leverages PLA material to quickly produce conceptual prototypes at a low cost per part. Production-grade ASA and ABS are ideal for producing strong, stable, repeatable parts and for even stronger, impact-resistant parts there is engineering-grade PC-ABS. Enhanced user experience dominates the Stratasys F123 Series design, with no special 3D printing expertise required to achieve professional results. Fueled by Stratasys Insight software, almost any CAD file can be utilized while Stratasys' GrabCAD Print eliminates time wasted on file conversion and STL preparation.