Coordinate Measuring Machine
Hexagon's GLOBAL S offers faster scanning measurement of non-predefined paths and optimized path trajectories for expedited part-program execution.
May 15, 2017 Staff
---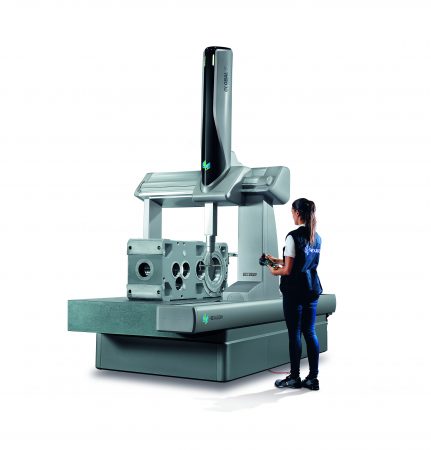 Hexagon Manufacturing Intelligence's GLOBAL S Coordinate Measuring Machine (CMM) platform  solution is a complete package utilized from start to finish in a Quality program. The Global S platform utilizes PC-DMIS CMM software for the collection, evaluation, management and presentation of manufacturing data. Leveraging software advancements, common tasks such as the selection of probe tips and importing files are now 3 to 8 times faster than existing solutions. Improvements such as feature sensor mapping allow the user to associate sensors to features more rapidly when importing inspection plans. Another innovation is the new "Inspect" option for program selection and execution. This easy-to-use interface allows "one click" measurement routine selection. The GLOBAL S with the Chrome precision level offers the highest scanning speed. Eco Mode+, a new green feature, provides a 90% reduction of compressed air consumption when the machine is in an idle state. The CMM solution saves up to 25% of compressed air cost under machine standard operating conditions. The Global S also offers configurable workstation options, message lighting and a redesigned jogbox for an improved operator experience.  Machine alerts regarding temperature, humidity, vibrations, and unexpected stoppage are available via new options of PULSE, a real-time monitoring system for metrology environments, and the PC-DMIS's notification center.