I/O Modules
Opto 22 groov EPIC modules support CAN bus integration and high-density temperature sensing.
December 17, 2019 by DE Staff
---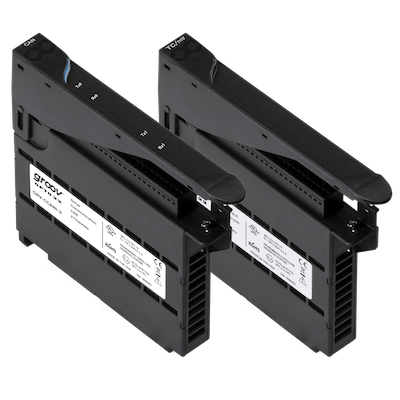 Opto 22 has released two I/O modules for bringing field bus networks into groov EPIC, as well as meeting requirements for temperature control applications with high I/O count. The GRV-CCANI-2 (serial communication, 2 channels, CAN 2.0B, channel-to-channel isolation) enables existing CAN networks to be brought into IIoT applications using groov EPIC's fluid IT/OT connectivity tools. Up to 8 CAN buses per processor at network speeds up to 1 Mbps are supported.
The GRV-ITM-12 (analog input, 12 channels, thermocouple or millivolt) provides a high-density, low-cost temperature sensing option with two isolated zones and 6 channels per zone. Each channel is software configurable to one of seven millivolt ranges or eight thermocouple types (Type B, E, J, K, N, R, S, T). GRV-ITM-12 is accurate to 0.1% of the configured range over 20-bit resolution for V/mV sensing, with accuracy ranging from 2.0-5.0 °C for thermocouple sensing.
www.opto22.com