Cable Connector
LEMO HALO LED Intelligent Active Connector lights up when properly plugged in.
April 25, 2016 Staff
---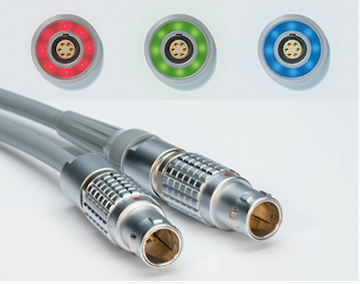 LEMO launched a Push-Pull metal connector called the Halo LED connector as part of the company's IAC (Intelligent Active Connector). This product includes an LED lit flange allowing to display the connection status, which enables the user to have immediate visual identification showing that the connector is securely connected and powered up. These LEDs can be white, red, green or blue. Equipment designers can also  display two different colors consecutively for diagnostics. As part of the IAC (Intelligent Active Connector) program, additional features, such as unique connector identification can be available. In this case, the connector pair will use an electronic chip that can offer identification, counting, safety and security options.