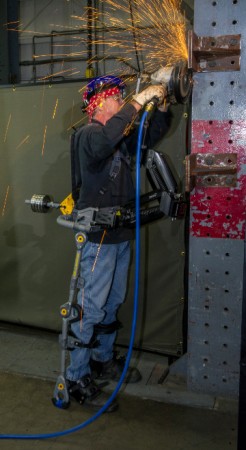 While it's doesn't sport bionics, repulsor beams or even a battery pack, an industrial exoskeleton, developed by Lockheed Martin, may serve a genuinely useful roll for ship maintenance crews. Although unpowered, the defense contractor's lightweight FORTIS exoskeleton is designed to shift the weight of heavy loads from the user's body directly to the ground.
The U.S. Navy, through the National Center for Manufacturing Sciences (NCMS), purchased two of the exoskeletons to test the technology for industrial hand-tool applications at Navy shipyards. The hope is that the FORTIS will allow crews to work longer and more effectively while reducing fatigue.
"Ship maintenance often requires use of heavy tools, such as grinders, riveters or sandblasters," said Adam Miller, director of new initiatives at Lockheed Martin Missiles and Fire Control. "Those tools take a toll on operators due to the tools' weight and the tight areas where they are sometimes used. By wearing the FORTIS exoskeleton, operators can hold the weight of those heavy tools for extended periods of time with reduced fatigue."
According to Lockheed Martin, the FORTIS's ergonomic design allows workers to move naturally and flexibly without hindrance. In addition, the suit features the Equipois zeroG arm, which can hold objects or tools up to 36 pounds, thereby reducing muscle strain.
For the past five years, Lockheed Martin has conducting exoskeleton R&D, most recently through the NCMS Commercial Technologies for Maintenance Activities (CTMA) program. It's research has lead to both powered and unpowered exoskeleton systems for applications ranging from military to industrial, the company says.
www.lockheedmartin.com