Rittal 4 Seasons Climate Control… for Energy Savings & Cost Efficiency!
The manufacturing world is facing increased challenges like labor and material shortages, low stocks, plus pressure to increase energy efficiency and lower the carbon footprint.
To weather the winter months, targeted enclosure heating with the appropriate thermal output and efficient energy consumption, are essential for the longevity of industrial enclosures especially in harsh, freezing outdoor environments. Rittal's experts will explain the considerations and optimal outputs for installing a heater.
The filter fan has long been the traditional front line defender keeping heat at bay, especially in environments that are relatively cleaner and the temperature is not too low, ideal for Springtime. Rittal's filter fans are top-notch roof-mounted fans are NEMA 12 out of the box, and NEMA 3R/4/4X with the rain hood.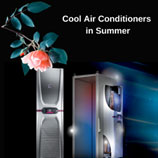 When the summer heat is at its peak, Rittal's Blue e+ cooling units offers up to 75% energy savings with innovative cooling technology. Rittal's Blue e, Wall-Mounted, UL Listed, Type 3R/4 air conditioners are excellent for indoor or outdoor enclosures where water is an issue. Rittal's climate control systems withstand frequent washdowns and powerful cleaning agents.
The durability and reliability of Rittal's air-to-air and air-to-water heat exchangers allow for deployment in harsh indoor or outdoor environments. Engineered for various mounting options, Rittal's heat exchangers are fully wired with digital temperature control and display for precision in both cooling output and overall performance within a climate system.
Win cool stuff and find your winning cooling solution!
For more information
Please enter your name and email to learn more.