Measuring Blind Holes and Counterbores
Plug-type gages automatically center themselves in the hole, eliminating the possibility of angular error in measurements.
January 16, 2017 by George J. Schuetz
---
Some time ago, I wrote that when measuring hole diameters, adjustable, "rocking"-type bore gages work well for broad tolerances and small production runs, while fixed, plug-type gaging is the practical choice for tight tolerances and high throughput.  Plug-type gages automatically center themselves in the hole, eliminating the possibility of angular error in measurements.  Let's now consider measuring blind holes and counterbores with plug-type gages.  Both types of holes are gaged similarly, so for the sake of economy, I'll use the term "blind hole" throughout.
When machining blind holes, the front face of the tool does all the work, so it wears more quickly than through-hole tooling.  Also, in any blind hole, a fillet occurs naturally in the angle between the "front" (i.e., bottom) and sides.  As the tool wears, the fillet starts to inch up the sides, constricting the I.D. along the way.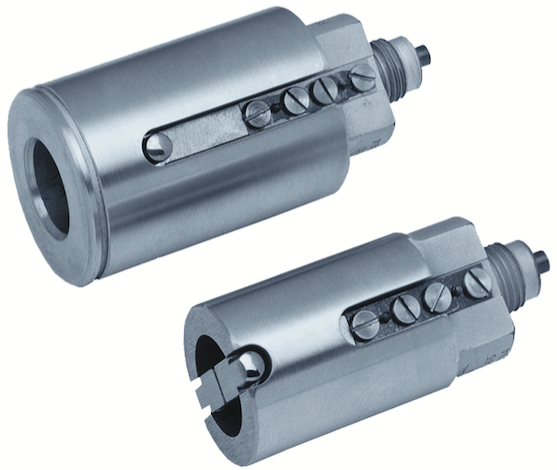 It's easy enough to throw out bad parts when they occur, but a better reason to gage parts is to control the process, and avoid making rejects in the first place.  In order to catch tool wear in time to control the process, special tools are needed for blind holes.  Blind hole gages measure close to the front of a hole.  How close?  There are three types of blind hole gages: (standard) blind with a height of .156″; super-blind with a height of .08″; and super-super-blind with a height of .030″.
The height figure is the distance from the front of the plug to the centerline of the sensitive contact.  (For comparison, the height-to-contact-centerline on a through-hole gage is 1/2″ to 3/4″.)  The height specs, and the "blind/super/super-super" terminology are, believe it or not, industry standards.
Examine the part print to find the critical depth of the hole diameter, and choose the type of blind hole gage accordingly.  Check especially if a precision mating part has to bottom out in the hole: an overly-tall fillet will cause unacceptable interference.  "Super" and "super-super-blind" plugs are usually used in connection with shallow holes, while standard blind hole gages may be for holes of any depth.  All three types are available in diameters ranging from .217″ to about 14″.
Blind hole gages are relatively susceptible to wear and damage.  The plugs lack the tapered, lead-in sections of through-hole gages, so the measuring surface itself is used to line the gage up to the hole.  In the process, these critical dimensions are subject to a lot of bumps and wear.  And the sensitive contact, being much closer to the front, can be readily struck against the edge of the hole; this is a common source of damage.
The entire front end of a through-hole plug could, in theory, be worn away, and the back end would still center the gage in the hole.  With a blind hole gage, there is no front end: centralization occurs only behind the sensitive contact.  Wear, therefore, begins on the only available centralizing surface from day one.  Because blind hole gages are more subject to wear and also less tolerant of it, one cannot expect them to have the longevity of through-hole gages.  So don't use blind hole gages where through-hole gaging would work.  Although a blind master is recommended, many people use standard master rings to check blind hole gages.  You can get away with this if you're careful.  Make sure you master at the same depth you measure; otherwise, wear at the front of the gage body may be masked by better centralization further back.  This could give you great repeatability on the master, and none in actual practice.
Also, note that master rings are only certified at certain depths: there's no guarantee they're accurate near the top or bottom.  Be especially wary of this with super-blind gages.  Drop a few quarters in the ring to bring your gage up to the right height.  The key to good mastering is to duplicate measuring conditions as closely as possible.  Through-holes tend to be self-cleaning, but blind holes need to be cleaned of chips and other debris before measuring.  One can use coolant if the hole faces downward.  Otherwise, compressed air is the best bet.
George J. Schuetz, Director Precision Gaging, has been employed with Mahr Federal Inc. for 40 years in the metrology business. 
During that time, he has worked in the application's areas for mechanical and digital indicators, mechanical gages, air tooling, electronic products, special gaging designs, surface finishing, and geometry gaging, and has worked with many companies to solve specific gaging problems. Presently, George is responsible for Precision Gage Product Management at Mahr Federal. Sign up to receive George's Gaging Tips eNewsletters at www.mahr.com/gagingtips.
This blog originally appeared on www.mahrfederal.com. It has been republished on Design Engineering's website with permission from Mahr Federal.