Toronto AI firm looks to disrupt use of robotics with industrial AI
Mike McLeod
Automation
Machine Building
Xaba.ai's xTrude and xCognition machine learning systems boost robot capabilities beyond those of standard controllers.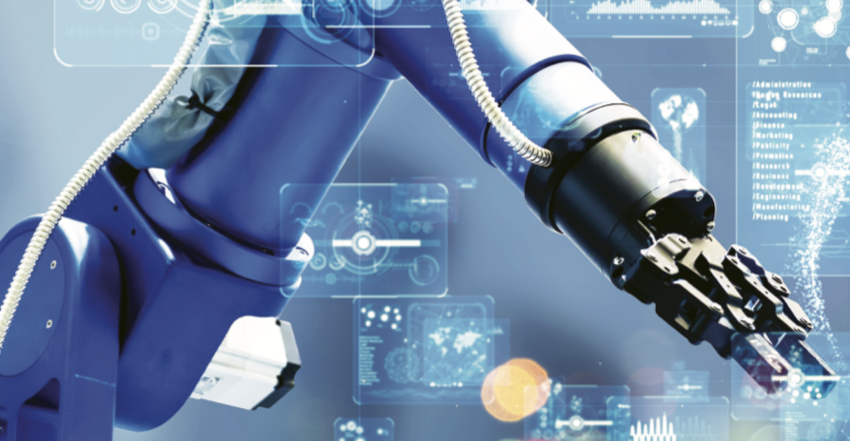 Since the public release of ChatGPT at the beginning of the year, artificial intelligence has become the buzz phrase of 2023. According to Bloomberg, upper management at S&P companies mentioned the term AI more than 1,000 in earning calls in the first quarter alone.
Similarly, robots, cobots and robotic applications have come to dominate industrial trade shows in the last few years as North American manufacturers look to capitalize on the pandemic-induced trend toward re-shoring and/or friend-shoring while coping with a shortage of manufacturing labor.
The difficulty is that neither, on their own, is easy to implement. According to Gartner studies, 85 percent of AI projects fail to deliver overall and may be even less successful in manufacturing implementations. Similarly, robots can be notoriously difficult to program.
While cobots were designed to lessen the technical know-how required, the results may not live up expectations, says the founder and CEO of Toronto-based Xaba.ai, Massimiliano Moruzzi. Too often, he says, cobots end up "in the corner."
"And the reason is, the capacity to drag this machine with your hands, and really have the machine do the same thing, comes from what is the other expensive part of robotics: You have to grab a lot of data," he says. "To have a collaborative robot execute even a little bit of a complex trajectory, you have to move them multiple times, because your hands are not very accurate. I have a feeling the problem is just being moved, kicked a little bit in a different direction. You still have to go through a massive amount of trial and error. And so that's why the problem has to be formulated different."
That something different, Moruzzi says, is what Xaba.ai specializes in: The melding of robotics with what he calls an industrial AI. While a large language model like ChatGPT or the diffusion model found in image generation AI can be variable in its output from one instance to the next, industrial AI requires that quality be fundamental, Moruzzi says.
"Industrial AI cannot just be an AI with the intention of the algorithm to discover a new path," he says. "That's good in some field but not in others. What we're building is an industrial AI because it has to be extremely repeatable, consistent and controllable."
xTrude
In a sense, Moruzzi quest for an industrial AI started long before founding Xaba, when he moved to the U.S. from Italy in 2002 to work as the director of engineering for Ingersoll Machine Tools.
While there, he led the team that developed the hardware and software Boeing used to automate the manufacture of the 787 Dreamliner's carbon fiber wings and fuselage. That same technology also factored into other projects, including a carbon fiber fuel storage tank for NASA and a carbon fiber stealth drone for the Lockheed Martin's Skunk Works.
Even before Xaba's founding last year, those applications formed the foundation for the company's xTrude platform, an AI-driven control system that models the physics of the FDM additive manufacturing process.
To date, xTrude's biggest claim to fame has been its use in the production of the three-part chassis of the Auto Parts Manufacturers Association's Project Arrow zero-emission vehicle.
To create the chassis, Xaba partnered with the Italian firm, Breton, SPA, which specializes in large-scale additive manufacturing machines for thermoplastic materials. Project Arrow's chassis was printed with the company's giant Genesi E3 additive and milling machine that has a print envelope large enough (3 meters high and 5 meters wide, with a variable length) to produce the chassis parts at full scale.
According to Moruzzi, adding Xaba's xTrude AI component was critical, since it calculates and controls the machine's printing variables, such as flow rate, extrusion temperature, bead width, etc., so that the printed part achieves the desired performance. That's no simple task, he says, especially when dealing with an anisotropic material like the carbon fiber reinforced polymer used in Project Arrow's chassis.
Given the variable directional strength properties of carbon fiber, the printing process therefore has to factor in where stresses in the part will occur.
According to Moruzzi, xTrude's machine learning algorithm models the physics of the 3D printing process to arrive at a solution that takes advantage carbon fiber's light weight and inherent strength while avoiding its weakness.
Moruzzi says that by enabling this kind of precision 3D printing, Project Arrow's carbon fiber chassis represents a potentially disruptive change in vehicle manufacturing.
"Currently, any [car] manufacturer is using at least 500 parts, if not 700, in a car chassis," he says. "So the cost of managing the parts, the CO2 and energy is just a logistical nightmare.[For the Project Arrow chassis,] there are only three components made with the same material, and the machine is consuming 35 kilowatt per hour to produce the chassis. That's where the sustainability is interesting."
xCognition
In addition to 3D printing applications, Xaba has most recently focused on extending its industrial AI concept to a broader range of robots performing the more traditional manufacturing processes (e.g. drilling, welding, assembling and riveting) that require a high degree of accuracy and repeatability.
The problem is that programming robots to perform those functions is challenging by itself, Moruzzi says, not to mention finding someone with expertise in kinematics and one or more of the often proprietary robotic programming languages. Given the difficulty, achieving an acceptable result often drives the cost of robotic applications too high for many.
Moruzzi says Xaba's xCognition AI platform addresses these challenges in that it is hardware agnostic, compatible with virtually any brand or type of robot, and in essence writes its own code. The result is a system that significantly improves the accuracy and repeatability of robotic systems beyond what has been achievable with traditional controller software.
"There are three modules inside xCognition," Moruzzi explains. "One is what we internally call our universal pre-imposed parser that can interface with KUKA, FANUC, ABB,Yaskawa, Denso, whatever the case. There is also a component that allows xCognition to talk with potential sensors that a particular industrial machinery requires to function."
The second module, he says, comprises xCognition's machine learning algorithm which captures and models the physics of a robotic system to create what the company calls a "true industrial robotics digital twin." In essence, this twin is a virtual representation of, not only the physical robot itself, but all the relevant environmental factors that may influence its operation.
Given that virtual model, and a defined goal like welding along a particular path or drilling in a precise location, xCognition's machine learning module then runs through multiple iterations of the assigned task until it arrives at a repeatable and precise solution. Along the way, the AI platform generates and tweaks its own programming using its third module, a large language model AI designed to write robotic code in whatever language is required.
The result, Moruzzi says, is an improvement in accuracy and repeatability that is an order of magnitude beyond that of traditional robotics controllers. As evidence, he points to recent a collaboration with Lockheed Martin, during which the aerospace manufacturer tasked one of its robotic systems a set of drilling tests with specified positional tolerances. According to Lockheed, the drilling procedure that used Xaba's xCognition controller was 10 times more accurate than without it.
Currently, Moruzzi says Xaba.ai is focused on building relationships with robotics integrators. In June, the company announced it is collaborating with Italian robotics firm, Rolleri Holding SpA, to develop an autonomous cobot workcell for welding operations that integrates xCognition. From there, he says the goal will be to make robotics as accessible as possible.
"The goal for us, ultimately, is to democratize the use of robots for everybody," he says. "By doing that democratization process, we aim for Xaba to be an incredible platform of manufacturing knowledge because our system is learning at this point. Every application we do, it grows in learning."
"When we have that kind of data, try to imagine the impact that we can have," he adds. "By presenting this data, even at the design level, even in crafting the new machine, even defining a new process, it would be amazing to learn what automation can really do."
www.xaba.ai