Motor Control Relays
AutomationDirect ProSense offer protective functions for motors or motor components.
March 23, 2020 by DE Staff
---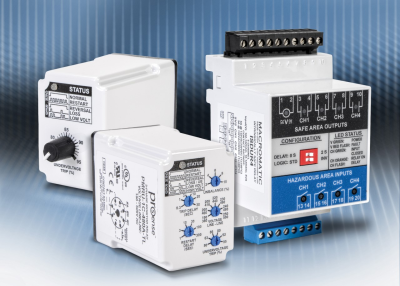 AutomationDirect now offers the ProSense series of motor control relays. The 10A-rated phase motor control relays provide protection against premature faults on 3-phase systems, including phase loss, phase reversal, phase unbalance, undervoltage and overvoltage. The 120VAC, 10A-rated alternating relays, used to optimize load usage, are available in SPDT or DPDT configurations; an onboard switch selects alternating or single-load operation.
The 120VAC pump seal failure relays give an alarm indication of a leaking seal and will automatically reset when the fault condition clears. These relays include an LED fault indicator and are available for single or two-pump monitoring. The Macromatic intrinsically safe relays allow control of up to four loads with up to four corresponding discrete input devices. The onboard SPST relays operate at either AC or DC coil voltage ratings. All models offer finger-safe design and include LED status indicator(s) and are 35mm DIN rail or panel mountable.
www.automationdirect.com