Valve Terminal
Festo's VTSA-F-CB valve terminal provides more communications, greater safety.
September 30, 2020 by DE Staff
---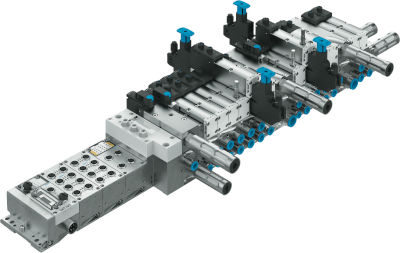 Festo has expanded its heavy duty VTSA series with the addition of the VTSA-F-CB, a valve terminal with serial communications added to the existing parallel communications. In addition, the terminal's internal bus system allows users to actuate up to 96 valve addresses, instead of the usual 32, and in four zones, on just the one valve terminal and one fieldbus node. With the VTSA-F-CB, it is possible to freely mix 18mm and 26mm valves on the same manifold.
The terminal also features four different CPX/pneumatic interfaces: A basic interface when safety control is not required, two integrated PROFIsafe versions (one to control three safe valve zones, another to control two zones with one safe output). The last version makes it possible for an external safety fieldbus module to directly control three pneumatic safety zones. Configuration options include a pilot air switching valve and a safety soft start/quick exhaust valve for slow start-up. And the new vacuum generator VTSA-F-CB has an air saving feature with ejector pulse.
www.festo.com